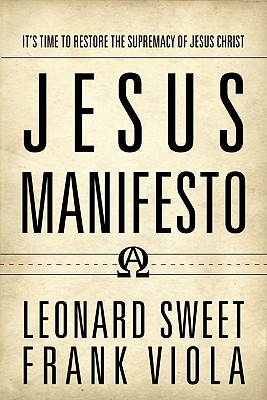 "So that in everything He might have the supremacy."
-Colossians 1:18
Christians have made the gospel about so many things-things other than Christ. Religious concepts, ideas, doctrines, strategies, methods, techniques, formulas, "its" and "things" have all eclipsed the beauty, the glory, and the reality of the Lord Jesus Himself. On the whole, Christians today are starved for a real experience of the living Christ. We know a lot about our Lord, but we don't know Him very well. We know a lot about trying to be like Jesus, but very little about living by His indwelling life.

JESUS MANIFESTO presents a fresh unveiling of Jesus as not only Savior and Lord, but as so much more. It is a prophetic call to restore the supremacy and sovereignty of Christ in a world-and a church-that has lost sight of Him.
Every revival and restoration in the church has been a rediscovery of some aspect of Christ in the process of answering the ultimate question that Jesus put to His disciples: "Who do you say that I am?"

Read this book and see your Lord like you've never seen Him before.

Summary from Goodreads.com

I just finished up this book and I have to say it is one of the best Religion based books I have read in a long time. I read a lot of books in this genre because I work at a church so I like to keep up with what's coming out.

I think the greatest thing about this book is the simplicity of it. The message, at least as I read it, was short and sweet: keep Christ as the center of your life and let Him live through you and in you. Now, that may sound stupid to many of you because we know that that is what we are supposed to be doing with our lives. But, how many of us are actually doing it. This book is a great wakeup call for Christians to examine their lives and take stock as to whether or not they are truly doing this.

The authors do a great job of keeping it moving and not trying to over explain everything. They pull in great quotes from some really well known sources and also from some obscure and surprising sources. There is not an overwhelming amount of deep theological discussion either. You can run into that sometimes in this genre.

This book was a homerun in my opinion. It is written well, gets to the point, and keeps you engaged. Plus, it has a great subject matter...Christ. This book is easily in my top 3 of this genre.

I would give this book a 5/5.